"

"Sometimes catchy, more often subtle, and always with a direct channel to the heart."" - Geno Thackara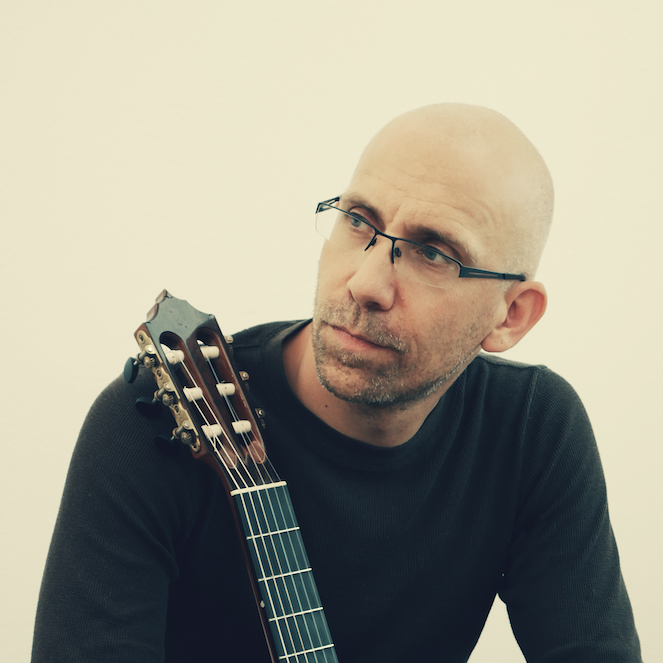 Ronny Wiesauer
Classical guitar
Austrian born guitarist Ronny Wiesauer is a restless musician who has a broad range of music roots that he combines for his art.
Born in Austria, Wiesauer began playing guitar at a young age, starting with classical guitar and later in his teens exploring the world of rock and fusion as well.  

While studying classical guitar at Mozarteum Salzburg under the guidance of Marco Tamayo, he more and more focused on building bridges between classical guitar and jazz improvisation.

He finished studies at Mozarteum with distinction and moved to Berlin - working there as a musician in various formations and bands. In 2008 he moved to Vienna where he recorded his debut CD "Music of The 19th Century" - a record that praise composers like A. Barrios, M. Giuliani and A. Diabelli.

2010 his second Album "Suite Breve" - titled after a short suite for classical guitar written by Harold Gramatges - a Suite in modern colors and moods was published. This record is  already focusing on contemporary music within a jazz context by composers like above-mentioned H. Gramatges, Sergio Assad, Ralph Towner and Dusan Bogdanovic. 

The continuing research on baroque composition theories resulted in his 3rd CD "Bach & Zamboni" . This time on the Archlute - an Italian version of the baroque Lute, a record with baroque music by J.S. Bach and G. Zamboni.
Playing concerts and focusing on building a lively youtube-channel the following years he finally moved back to Salzburg where he  founded "The Corium Project". A contemporary jazz trio with Heinz Hasenauer on doubleness and Klaus Sauli on Drums.
Their debut CD "Chants To The Sea" features Ronny Wiesauer as a composer for the first time, combining the world of classical music and jazz. Based on Leo Brouwer´s "El Decameron Negro" - a fundamental piece of the classical guitar repertoire - Ronny Wiesauer wrote music for the trio corresponding to "El Decameron Negro"   and interweaved them seamlessly into this monumental work for classical guitar.

The Trio recieved very positive international reviews for this record from various magazines including the US guitar magazine classicalguitarmagazine.com ""I love these guys" or german Jazzpodium.de " highly recommended".

In 2019 Ronny Wiesauer released his first CD solely his own compositions. "Monologues" is a CD written for classical guitar solo - compositions and improvised parts interact carefully. Pieces written mostly in a soft and tender tone.
Allaboutjazz.com wrote: "Each piece of Monologues shows the same balance of assured calm and unobtrusive smarts. It adds up to an album full of pastoral beauty and thoughtful restraint, like a familiar trail always boasting its share of interesting and picturesque turns."

Finally "All Yours" is Ronny Wiesauer last release so far. The CD was published in July 2020 and received very positive feedback from international press and media. Mostly his own compositions are found on that CD. Currently Ronny Wiesauer is working on his next CD release, which his expected to be released in summer 2022.